Change We Can Believe In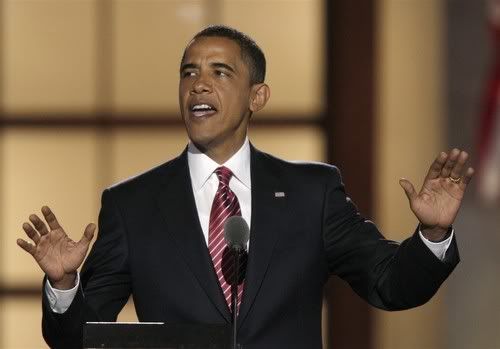 45 years after Martin Luther King delivered his 'I Have A Dream Speech,' Barack Obama became the first black man to accept the nomination of a major party. In a nation where black men make up half of the prison population, this was a historical moment indeed. Barack Obama stood before 84,000 supporters and delivered the keynote address of the 2008 Democratic National Convention. In a moving 42-minute speech, Obama brought many to tears and reflected on the morals and values instilled in him as a child and his plans for our nation. "Our government should work for us, not against us. It should help us, not hurt us. It should ensure opportunity not just for those with the most money and influence, but for every American who's willing to work. That's the promise of America...that's the promise we need to keep. That's the change we need right now. So let me spell out exactly what that change would mean if I am President. Change means a tax code that doesn't reward the lobbyists who wrote it, but the American workers and small businesses who deserve it. Unlike John McCain, I will stop giving tax breaks to corporations that ship jobs overseas, and I will start giving them to companies that create good jobs right here in America. I will eliminate capital gains taxes for the small businesses and the start-ups that will create the high-wage, high-tech jobs of tomorrow. I will cut taxes - cut taxes - for 95% of all working families. Because in an economy like this, the last thing we should do is raise taxes on the middle-class. And for the sake of our economy, our security, and the future of our planet, I will set a clear goal as President: in ten years, we will finally end our dependence on oil from the Middle East...Now is the time to help families with paid sick days and better family leave, because nobody in America should have to choose between keeping their jobs and caring for a sick child or ailing parent.Now is the time to change our bankruptcy laws, so that your pensions are protected ahead of CEO bonuses; and the time to protect Social Security for future generations.And now is the time to keep the promise of equal pay for an equal day's work, because I want my daughters to have exactly the same opportunities as your sons.Now, many of these plans will cost money, which is why I've laid out how I'll pay for every dime - by closing corporate loopholes and tax havens that don't help America grow. But I will also go through the federal budget, line by line, eliminating programs that no longer work and making the ones we do need work better and cost less - because we cannot meet twenty-first century challenges with a twentieth century bureaucracy."

Obama concluded his acceptance speech by evoking to spirit of Martin Luther King, Obama borrowed a line from King's 'I Have A Dream Speech', ""We cannot walk alone...and as we walk, we must make the pledge that we shall always march ahead. We cannot turn back." America, we cannot turn back. Not with so much work to be done. Not with so many children to educate, and so many veterans to care for. Not with an economy to fix and cities to rebuild and farms to save. Not with so many families to protect and so many lives to mend. America, we cannot turn back. We cannot walk alone. At this moment, in this election, we must pledge once more to march into the future. Let us keep that promise - that American promise - and in the words of Scripture hold firmly, without wavering, to the hope that we confess."