A Couple of Words From Ms. Badu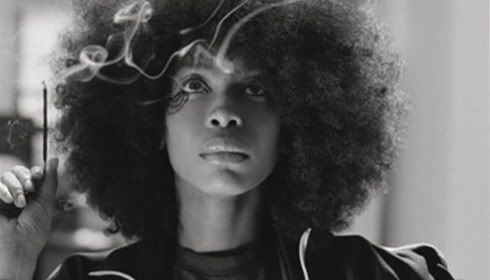 The often misunderstood and ridiculously talented Erykah Badu dropped message on her Myspace page today. It seems like Ms. Badu has abandoned the task of completing New Amerykah Pt. 2 to prepare for the birth of a child. Understandable. Right? Check out the message.

... any day now my new project arrives .
nope - not new amerykah pt 2 but new baby !! (shout out to mothers to be )
i can hardly move my hips are sooo stiff ...( i look like a duck w/ long legs)
meanwhile im still working away on pt 2 .
( mind blowin)
later than i anticipated , however , but frsh all the same .

these days i live in headphones while poppin b vitamins and rubbing my belly down with shae butter ( plump and ripe) .
im a damned perfectionist and my method is kinda weird
s0 the lable just throws their hands up at me and banks on somethin else
lol. ( peace to sylvia rhone ).

so any way , im back in the badudio , ill pause for my home birth which is just in the next room so i promise it wont take too long . lol.
(valerian and chamomile are my best friends )
been spending my days on twitter throwing out random thoughts as FATBELLYBELLA. plenty of twitty milk to go round ...

i give thanks today for your love , energy , respect and feedback .

on behalf of my entire family from Edith funker , nedda stella ( band), soul quarians ,jay tronic, controlfreaq records , canabinoids, b.l.i.n.d.
, THE scientists ,and of course NAYROCK
"HAPPY NEW YOU .
"
IF YOU BELIEVE IT IT'S YOURS . TRUST .

all my love ,
ebi breezy
aka fat belly bella aka loretta brown aka analogue girl aka annie
aka manuela mexico aka baduizm pka e. badu.....

love and light !!!!!!!!!!!!!!!!!!!!!!!!!!!!!!!!!!!!!!!!!!!!!!!!!!!!!!!!!!!!!!!!!!!
p.s.
im gone still do 2 mo videos for pt 1
which 2 should they be ?
i was thinkin the healer and souldier...eh.