A Few Words From The Queen
Tonight, Aretha Franklin is bringing a lifetime worth of soul music to Washington D.C's Constitution Hall. Aretha recorded her first album in 1956. In the years that have followed Aretha has released an astounding 39 albums. Her latest recording, This Christmas is available now, exclusively through Borders and Waldenbooks. Aretha's career has been marked by a slew of achievements, acclaim, and milestones. Sister ReRe has won an astonishing 20 Grammy Awards including the Living Legend Award and Lifetime Achievement Award. The Memphis born- Detroit raised, gospel bred singer was the first black woman to grace the cover of Time magazine and she was the first female to be inducted into the Rock and Roll Hall of Fame. Aretha has even made a few stops to 1600 Pennsylvania Avenue, in 1999, she was awarded The National Medal of Arts by President Clinton. Three years ago, President Bush awarded Aretha The Presidential Medal of Freedom. The list goes on.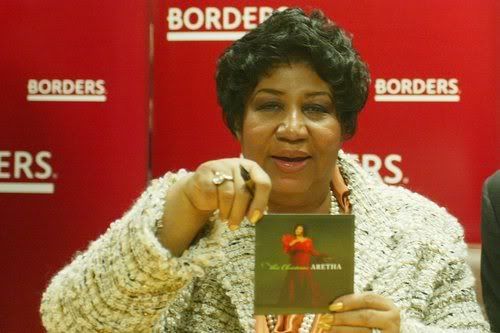 At the age of 66, retirement is the last thing on Aretha's mind. Limited to traveling by custom bus because of a fear of flying, Aretha still performs spot dates year round. She is no longer signed to a major label, Aretha has started her own record label, Aretha Records. The Queen of Soul is working on bringing her life to the big screen and stage. On the eve of her concert in the nation's capital, Aretha chatted with the Washington Post, where she spoke on everything from her war of words with Tina Turner to her upcoming album, Aretha: A Woman Falling Out Of Love.

On the collapsing of the record industry:

"I wouldn't say that. I'm certainly not privy to their numbers. What their gross income or anything like that is. So I wouldn't say that. And I wouldn't call close to a billion dollars a year falling apart. It might be a billion less, but I wouldn't call that falling apart. It's just that artists have become a lot more independent and aggressive in terms of their growth and distribution and control of their product."
On her 'war of words' with Tina Turner:

"Oh, there's no squabble. The people at USA Today just grossly exaggerated that I was fuming. That's ludicrous. I've always appreciated Ms. Turner and she just kind of overstepped herself and chose to speak on my ego when I really thought she was being more descriptive of herself. Mmm-hmm. Particularly in view of the fact that she doesn't even know me."

On her career had she signed to Motown:

"Many of my friends were there at Motown. The studio was only a few blocks from where my dad's home was, where we lived. So I would just go over to the studio to see who was recording, just to say hello, maybe to Smokey or Mary Wells, or someone who I was friends with. But I'm glad that my career took the path that it did. As I understood it they had to get special permission to be paid. I'm not really sure what it was, but in my instance, coming up, I was able to handle my own money and I didn't have to ask anyone for anything. And those artists, I believe, did. They had to go through a process to get a check written. Certainly Motown presented their artists in a first class way. They did have some of the things that the other labels didn't have, which were the grooming schools where they had to sit and take different classes in knowing how to speak to the press and so on. So they had some very good things on their label that other labels didn't have. But then other labels had further reaching distribution, internationally, than Motown did. There was a different respect to begin with, in the industry, between a Columbia Records and Motown. Later on, Motown became the industry giant that it did."

On her early years at Columbia Records:

"Columbia was a wonderful label for me. Wonderful. The records I made there garnered me an audience. I won a number of polls during the years that I was at Columbia. The Downbeat Jazz Poll. Leonard Feather, who was a huge critic back in the day, different polls that he had. The Playboy poll, a number of polls. So the music was great. Artistically, it was great music. But it wasn't commercial. That was the problem with Columbia. The producers weren't really commercial producers. Bob Murphy was one of the all-time great arrangers and he had some of the most beautiful arrangements I ever heard. Clyde Otis was excellent but they just didn't have that commercial flair. We had what you called turntable hits, meaning you were getting a lot of radio play but you weren't selling a lot of records."
On the thought of singing at at Barack Obama's inauguration if he were to be elected:

"Well, it's left to be seen. It's very, very close at this time and it seems to be ever-changing. But I would be so honored, if it happened to turn out that way, to be asked."
On what it means to be the Queen:

"It's not all about singing. Being the Queen is not all about singing and being a diva is not all about singing. It has much to do with your service to people. And your social contributions to your community and your civic contributions as well."