The recent murder of a friend has prompted me to highlight the deaths of other young African Americans at the hands of young African Americans. Black on black crime is plaguing communities of color all across the country. Over the past few weeks, I've highlighted the deaths of youth in New York City, Rochester, NY, St. Louis and Philadelphia.

Today, I googled the words 'black teen killed' and came across the story of a 15 year old Chicago girl killed over the Memorial Day Weekend. 15 year old Sharkeila Taylor was celebrating Memorial Weekend on the South Side of Chicago with family and friends,she had recently moved to Gary, Indiana. As the holiday weekend was coming to a end, Sharkeila was hanging with friends, enjoying the warm weather and celebrating the start of summer. Around 11 p.m a hail of bullets flew through the air. Once the sound of gunshots faded, 15 year Sharkelia Taylor would be found laying on the sidewalk with a bullet in her back. Latisha Coleman, who lives near the scene, heard the gunfire. "I walked over there and saw the little girl...it was terrible. She was holding my hand and I was talking to her, saying, 'Stay with me, stay with me...then the little girl took two whole breaths and let go of my hand. I said, 'She's gone. She's dead.'" Three separate shootings that night within a 2 1/2 mile radius left Taylor and a 27 year old male dead and four others wounded. Sharkeila was the youngest victim. Lakita Childs, a South Side resident, spoke of the violence in the area, "most people don't even want to come outside, they're too scared. I don't even want to bring a baby into this world, because I'm afraid if I have a baby they'll get killed like the rest of these kids."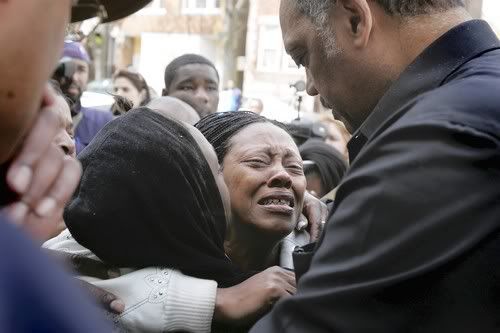 Sharkeila, nicknamed "Mz. Dora", was remembered by classmates as life-loving girl who looked out for others and valued friendship. Some friends affectionately called her "Ma," she possessed a protective persona that made her maternal. Yet, she was also childlike, evidenced by her nickname taken from the cartoon "Dora The Explorer."
At a prayer vigil, Rev. Jesse Jackson said "there are too many funerals and not enough future, too many memorials and not enough ending the madness."