The White House Celebrates Black Music Month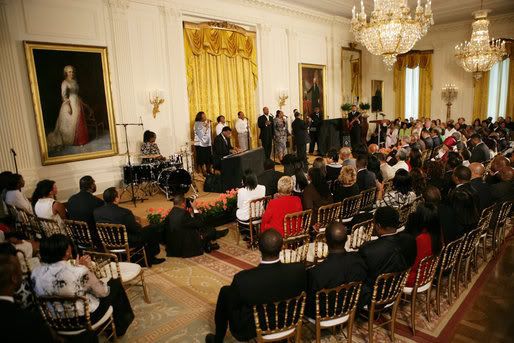 Earlier this week, the White House hosted a celebration of Black Music Month with performances by Kurt Carr & The Kurt Carr Singers and Walter Hawkins of the legendary Hawkins family. "For this year's Black Music Month, we return to the theme of gospel music." said President Bush. "The gospel music tradition was born from great pain. Slaves sang spirituals to communicate with one another in the fields, and songs of faith helped black Americans endure the injustice of segregation. Today, gospel is more than an anchor for black culture and history -it's a source of inspiration for the whole nation." He finally said something right.
Even though a large group of hand clappin' and foot stompin' black folk invaded the White House,President Bush felt right at home, isn't it obvious?