The Trials & Tribulations of Robert Kelly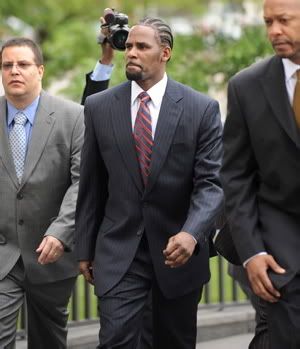 Here's the latest on the R. Kelly trial.
Two days and 12 witnesses later, R. Kelly's defense team rested their case on Monday. The self proclaimed 'King Of R&B'...oh wait...that's Bobby Brown...the self proclaimed 'Pied Piper of R&B' did not take the stand in the child pornography case.
The defense called three relatives of

Roshana

Landfair

, the alleged victim in the infamous sex tape, who testified they did not

recognize

the young girl in the video. The prosecution's witnesses included childhood friends and relatives of

Landfair

, who identified her in the video.
Grant

Fredericks

, one of the prosecutions rebuttal witnesses, will be called to the stand today to counter the testimony of defense witness Charles Palmer, who testified he didn't see the infamous mole. Mole?...R.Kelly's defense claims the man in the sex tape doesn't have a mole on his back much like the mole R. Kelly has had since childhood. The prosecution is expected to recall Atlanta prosecutor Robert Wolf, who's expected to testify that the fiance of the prosecution's star witness Lisa Van Allen was not offered a deal in exchange for Van Allen's testimony. Closing arguments will begin Thursday.
Robert Kelly is charged with 14 counts of child pornography. If convicted he faces up to 15 years in prison. If he is convicted, I think it is only right that Micheal Jackson be forced to join him in prison.