Al Green Stole The Show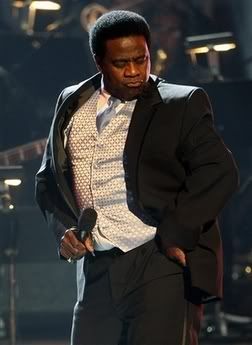 Every year I look forward to watching the BET Awards. Unfortunately, this year's award show ranks as the worst so far. The combination of D.L Hughley's corny jokes and a  handful of horrible performances proved to be disastrous.
Let's fast forward past the foolishness and get to the highlight of the show, Rev. Al Green receiving the Lifetime Achievement Award. Jill Scott started the tribute off with a shaky performance of "I'm Still In Love With You," Anthony Hamilton kicked things into high gear with "Tired Of Being Alone" and Maxwell emerged from hiding and gave a rousing rendition of "Simply Beautiful." Al Green accepted the award, gave his acceptance speech and conned us into thinking he wouldn't perform. However, in typical Al Green fashion he made a u-turn and strutted to the mic and put a hurting on "Let's Stay Together." Everybody and their mama was on their feet singing and two stepping. I do mean EVERYBODY, Al Green brought the ENTIRE audience to it's feet. Al went right into "Love And Happiness" with the charisma and sheer conviction of a Memphis preacher...oh wait...Al green is a Memphis preacher. Check out  Rev. Al Green in all his glory. Head over to BET and check out Al's performance of "Let's Stay Together" and the tribute performances.