In the late 70's, the Harlem bred Angela Bofill debuted with an elegant sound that mixed the elements of jazz and soul with a touch of Latin flavor to create a blend of genre bending music. At a time when music trends were changing and disco was the craze, Angie's music was salvation for those looking fo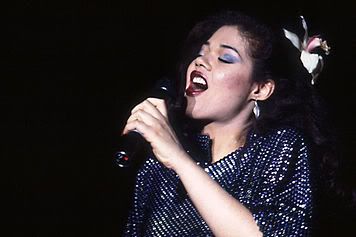 r the soul of days gone by. Being of Cuban and Puerto Rican ancestry and growing up in Harlem, Angie was influenced by the sounds of Motown, James Brown, Aretha and Latin music. At the tender age of 18, Angie was an accomplished singer and songwriter, working with legends Cannonball Adderdely, Herbie Hancock, Nat Adderley Jr. and Dizzy Gillespie. Angie's solo recording career started in '78 with the release of her self tittled classic debut, Angie. She went on to record a string of classic albums and gave us hit song after hit song, "I Try," "Angel of The Night," "Break It To Me Gently," "This Time I'll Be Sweeter," "I Wanna Love Somebody," to name a few.



After recovering from a 2006 stroke, Angela suffered another massive stroke on July 10,2007 and was in critical condition for some time. She remains at a nursing home in California. According to her website, Angie's speech and mobility are continuing to improve and it is only a matter of time before she returns home.
Head over to her
website
, all proceeds go to support Angie's recovery.