Mavis Staples Records Live Album
69 year soul legend Mavis Staples, today happens to be her 69th birthday, recorded a live album back in June at Chicago's Hideout. Most of the songs from the session were taken from her critically acclaimed album We'll Never Turn Back, an ode to the Civil Rights Movement. Staples, along with a three-piece band and a trio of background singers, opened with "For What It's Worth" and went through a bundle of songs akin to the turbulent Civil Rights Movement including "Eyes On The Prize," "Wade In The Water," "This Little Light of Mine," "Why Am I Treated So Bad?," "We Shall Not Be Moved" --to name a few.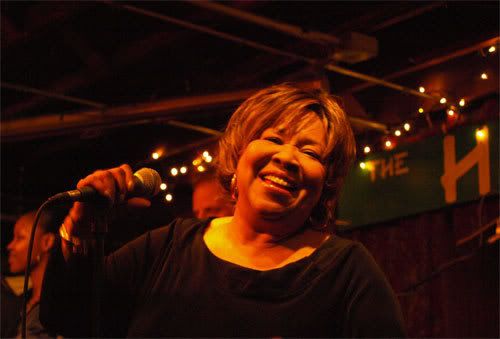 TimeOut Chicago writer Scott Smith summed up his thoughts on the live recording, "there are few living musicians who can lay claim to being America's conscience, even fewer who continue to make vital music. On Monday night at The Hideout, Mavis Staples proved she's still capable of both. But far more than merely being capable, the 69-year-old Staples showed she can light a fire, agitate for change or re-energize the American songbook."
The live album is expected to be available by Christmas.