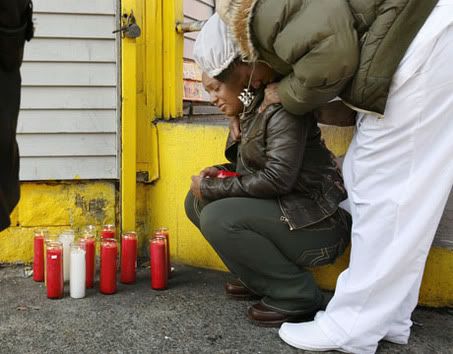 The headline in the Rochester Democrat and Chronicle read "Rochester streets devour another teen." 16 year old Daniel Davis was gunned down in Rochester, NY on May 12. Davis was killed blocks away from where two African American teens, Brent Coley and D'Marri Shaw, were killed in February. Davis was described by family and friends as a "good kid" who was beginning to head down the wrong path. Police have very little information about the circumstances surrounding his death. No arrest have been made.
Brent Coley and D'Marri, b
oth 15, were found, on the night of February 19, dying blocks apart after
they were shot inside a house where drugs were being sold. Rochester Police Chief David Moore said the deaths were results of the teens' "high-risk lifestyle." Family of the victims described the boys as typical teens who were victims of a senseless crimes. Brent Coley is remembered as an energetic kid who loved playing football and hanging out with his friends. Da'Marri loved music, basketball and spending time with his seven siblings. In the words of Pastor Marlowe Washington, who spoke at Coley's funeral, "I cannot get immune to this...I'm sick and tired...of being sick and tired. I'm just sick of being sick."
"....If your mind could really see
You'd know your color is the same as me
Pardon me brother as you stand in your glory
I know you won't mind if I tell the whole story
Get yourself together, learn to know your sign
Shall we commit genocide before we check out our mind
I know we've all got problems that's why I'm here to say
Keep peace with me and I with you
Let me love in my own way
Now I know we got great respect for the sister and mother
It's even better yet
But there's the joker in the street loving one brother and killing the other
When the time comes and we are really free
There'll be no brothers left you see....."
"We The People Who Are Darker Than Blue" -Curtis Mayfield