I've been in an 80's New Jack Swing kinda mood, so it would only be right to revisit a classic album from that era; Guy, the album that got New Jack Swing

swingin

'.Teddy Riley, Aaron Hall and Timmy

Gaitling

formed the group Guy and released their self titled debut, Guy, back in 1988. Guy became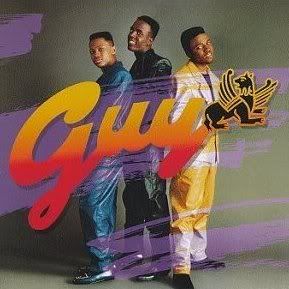 an instant smash, producing hits "I Like," Groove Me," "Spend The Night," and "Teddy's Jam," and popularized New Jack Swing at the same time. Teddy Riley introduced us all to New Jack Swing by means of Make It Last Forever, Keith Sweat's '87 debut. However, Riley perfected the New Jack Swing sound on this album. Guy defined new jack wing and served as a blueprint for other artist. A blend of R&B, hip hop, dance, and funk Guy consisted of 10 tracks, irresistible uptempo party tracks such as "I Like" and "Teddy's Jam" and sweet slow ballads such as "Piece of My Love" and "Goodbye Love." Ranked one of

VIBE's

"51 Essential Albums" Guy, a study in New Jack Swing, is a must-have. Teddy Riley would go on to produce the classic Bobby Brown album Don't Be Cruel. Timmy

Gaiting

would eventually leave the group, he was replaced by Aaron's brother, Albert Damion Hall just in time for their 1990 release Future. The trio eventually broke up. Teddy focused on producing and songwriting and formed the group

Blackstreet

. Aaron Hall (the original R. Kelly) released his solo debut, The Truth, in 1994. Damion's Straight to the Point was released the following year. Guy reunited in 1999 and released Guy III in 2000.