The R. Kelly Trail Has Finally Begun...Jurors View Sex Tape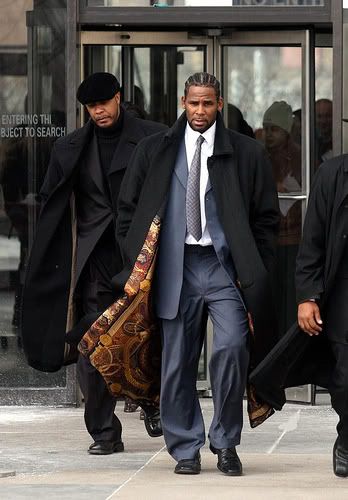 The 25 minute sex tape at the heart of the R. Kelly trial was played today in court. R. Kelly sat expressionless as the infamous tape played. Prosecutor Shauna Brolicker described the video as "vile, disturbing, and disgusting." She told jurors they would see "the crime unfold...frame by ugly frame" in a video that was "choreographed, produced, and starring Robert Kelly." Prosecutors maintain the girl in the video could have been as young as 13 when the tape was made sometime between 1998 and 2000. The alleged victim, now 23, denies the she's the girl in the video. The defense countered that even the FBI, "the same people chasing bin Laden...cannot identify Mr. Kelly as being on the tape." The defense also stated the Kelly has had a visible mole on his back since childhood and that the man in the video did not have a mole. Kells has been charged with 14 counts of child pornography and faces 15 years in prison and a $100,000 fine if convicted.
I saw the video...if that isn't R. Kelly not only can pigs fly but I Believe I Can Fly..
Let's Meet the Jury....
Juror #69

...white male...30's...listens to NPR...reads Forbes and Wall Street Journal...believes the justice system has a bias against minorities...believes R. Kelly is guilty but judge based on the evidence.
Juror #6

...black female...40's or 50's...wife of Baptist preacher...lives in the same area of Chicago as Kelly but did not know much about him or the case.
Juror #9

...black male...late 50's...Christian...not a fan of pornography...has heard of R. Kelly but could only name one song: "I Believe I Can Fly"
Juror #22

...white male...40's...served on 2 other juries.
Juror #23

...white male...30's...investment banker...wore an "Impeach Bush" button to jury duty...when asked about being fair he said "I would hold myself to a very high standard."
Juror #32

...black female...late 20's...teaching assistant at Catholic school....saw the infamous video and isn't sure if it is R. Kelly in the video.
Juror #40

...black male in his 30's or 40's...has heard of Sparkle and Barry Hankerson...hasn't seen the tape or followed the R. Kelly story.
Juror #48

...white male...20's...past arrest for underage drinking and marijuana possession...believes people with money can afford "better lawyers."
Juror #44

...white male...30's or 40's...saw a faded-out version of the video on the news...has no opinion of the case.
Juror #61

...white male...60's...emigrated from Romania 38 years ago...doesn't quite understand the concept of reasonable doubt...quoted as saying " I'm not the smartest guy, but I will do what is best and fair."
Juror #68

...white female...20's...rape victim...alleged rapist wasn't indicted...When asked if she could put aside what happened to her for this case, she said, "It would be very hard, but yes."